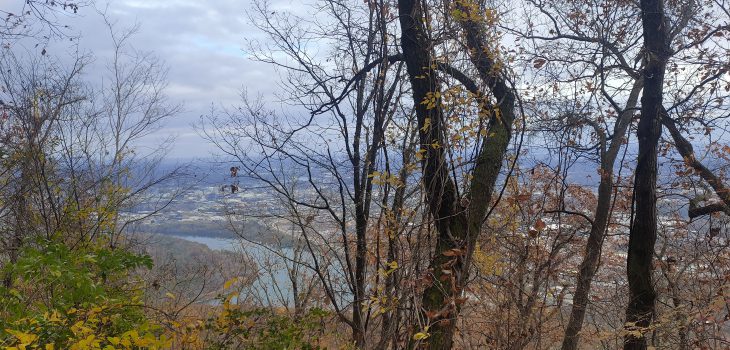 It was supposed to rain the day before and it never did. It wasn't supposed to rain on this day, but of course it did. A typical weather mis-prediction here in the southeast.
I needed to get out of the house. Saturday was filled with sitting around the house chasing Parks on the Air and waiting on the rain that never showed up. Sunday was slated to be a beautiful day, so it was time for an adventure. Instead of a traditional POTA activation, I decided to venture out by going minimal and activating with a handheld combined with a rollup J-pole. I'm sure you are already thinking, "good luck getting 10 contacts with that setup" and normally you would be right. The trick is elevation. I went to one of my favorite hikes starting out from Cravens House on the side of Lookout Mountain, up the east side on the Mountain Beautiful Trail, and down the west side on the Bluff Trail. This wonderful part of the Earth is part of the Chickamauga and Chattanooga National Battlefield K-0716. Not only is it stunningly beautiful, but there is an amazing amount of history in the area.
On the drive over it started sprinkling……..of course. I was not deterred; the temperature was an unseasonable 75F so a hike in the rain wouldn't be uncomfortable. The only thing that was a bit concerning is the carpeting of fresh leaves on the trail combined with rain making some slick rocks and one could find themselves unpleasantly horizontal. Wouldn't you know it, as soon as I got out of the truck the rain came on even harder. Oh well, I had already driven across town and made up my mind that I was going to get an activation. Good thing I didn't over think it because 5 minutes into the hike the rain stopped, and all was right in the world again.
As alluded to earlier, the radio setup was pretty minimal. I had the trusty FT2Dr handheld combined with the N9TAX rollup j-pole that is tuned for 2m/70cm. Once up to top of the trail, and just below Point Park, I deployed the j-pole about 25 feet or so into a tree. At this elevation there was no gains to be made by going much higher, but I was right up against a rock face and was trying to get it out away if possible. It didn't take long, a little querying from the local 146.790 repeater was all it took to get a few of my buddies over to 146.520 and 446.000. After the dust settled, I got fourteen contacts in less than 45 minutes. Oh, and the setup and takedown were much quicker than an HF rig :).
Interestingly, I tried to get Maggie, N4CFS (My YL) to make contact from the house and she couldn't quite get me in the noise. This was very surprising at first but after some further investigation it seems that the ridge between our house and the mountain may have been blocking us. Not to worry, next time I am going to bring along a yagi and see if I can overcome that problem with some gain!
In the end, it was an excellent adventure and the sun even started popping out toward the end of the hike. There were still a few leaves on the trees, and it felt like Autmn in southeast Tennessee was trying to hang on for just a bit longer.