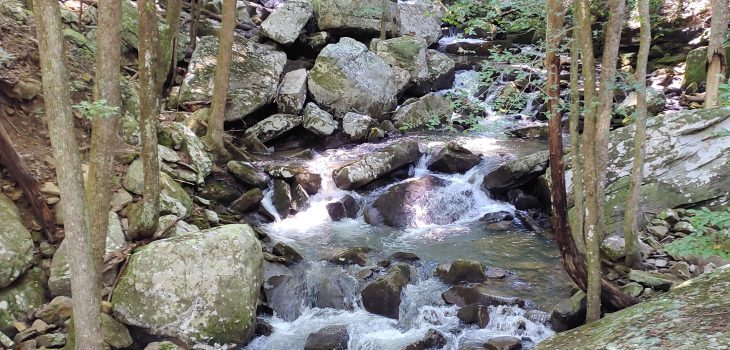 K-6252
For Labor Day weekend, Maggie and I decided to go on a little adventure to what we both agree is one of the best hidden gems in this area.
The weekend before, I had made a weak attempt at activating the park without much planning. It was one of the rare times in my life that failure was combined with a positive eye opening experience. I quickly realized that I was going to need a day (or more) to get the best out of this mountain oasis. So I took a few pictures so I could sell Maggie on tagging along with me, after some further research and planning. In doing so, I figured out that there was much more to offer, including three campsites, two beautiful waterfalls, and two equally stunning overlooks.
So we got up early (for a Saturday) and got to the park around mid morning, after a gourmet Burger King breakfast in Dayton, TN. The road into the park is posted as an "unimproved road" and lives up to the term. If you have a nice car with low profile tires, I wouldn't recommend the journey. Luckily we were in the old '97 Nissan 5 speed pickup, so naturally the journey in and out was pretty "sporty" for us. A quick word about parking – while the parking lot is fairly large, when the weather is nice, this place tends to fill up fairly quickly. Since there is no alternative access, those cars are usually there for the day. So get there early on nice days.
After double checking our packs and taking a last swig of coffee, we headed down the main trail. When you start down the trail you will hear the beautiful sounds of water steaming down Richland Creek to your left. On your right are giant boulders and man-made retaining walls built from stone many years ago by coal miners. At the beginning of the trail there are some historical displays that are very interesting about the history of the land. Maggie always gets annoyed when I read these so I made sure to do it on my first visit to the park a week earlier. The main trail next to the creek is an old mining railbed. Interestingly, if you look closely you can see small dark fragments of coal still there after all of this time.
The first notable landmark is a foot bridge that crosses Paine Creek on what is either old, man-made bridge pillars or it could be the foundation of an old mill house. Either way, after a good rain, the water flowing through is something to enjoy. Just past the first foot bridge is the entrance to the abandoned Richland Coal Mine. I didn't venture inside but did stand at the entrance to take a look. It doesn't go too far in but you definitely get an idea of how primitive working conditions would have been back then. Past this, the trail is a slight incline following the creek on into the gulch. After 20 or so minutes, the trail makes an abrupt switchback that is well marked with a sign and starts to climb up just briefly. The climb is somewhat steep and technical but doesn't last for long. From there, you meander slowly up and away from the creek and the sounds of water slowly fade into the forest behind you. The trail heads over to a good sized bridge, aptly named the '50 foot bridge," that crosses Laurel Creek. The bridge makes for a great photo op and we were lucky enough to be the only ones around at the time. On the other side of this bridge the trail splits and is clearly marked. To the right is Laurel Falls and left is Snow Falls.
Based on my research, we had already decided that we would be exploring Laurel Falls on this outing as it is a bit shorter of a hike and better suited to setup a ham radio station. There were a couple of surprising scenic areas on the trial up to the falls. The trail also kicks up at this point to get you up to the falls. There is a small water hole that appears to be pretty deep at one point; however, even in early September, the water was a bit chilly. There was also a nice, little mini falls that is not Laurel Falls – so don't get disappointed but do enjoy. Further on up, the trail takes you through a "rock tunnel" that Maggie was less than thrilled about. It was a tight squeeze with packs on and there was a bit of crouching and crawling, but we also figured out there is a detour around this just to the left of the big boulders. The trail then takes you on "Z" pattern to gradually climb some fairly steep terrain. You know you are getting close when you can feel the cool mist from the falls cooling the air. The Falls are surrounded by large boulders and when the water is running these boulders are pretty slick. So we didn't get to climb up to the base but we did get to take it all in for a while. I would imagine the Falls are just as fun when it is running light, just because it is probably a little more hospitable at the base. Another note – the hike up to these Falls are just far and technical enough to keep the weirdos away. If you don't know what I mean, just go to a scenic vista that can be reached by rolling down the window to a car and you will understand.
After having the falls all to ourselves for a while, Maggie and I started further up the trail away from the falls to the base of the "rim cliffs" where we found what looked like some extraordinary sport climbing. I used to do a fair bit of sport climbing in my college years and wish I had only known of this place. It brought back some fond memories of leading 5.11's without a break and hanging with two fingers while making that next bolt with the other hand! Anyway, just past this point we found a nice little area tucked right next to the rocks where I had just enough phone service to get the Parks On The Air website on my phone. Maggie was also able to setup her hammock between two trees. At one point I looked up and she was taking a nap while I was playing radio.
I obviously packed light for this adventure, as the terrain and distance where critical factors. My station consisted of my Yaesu FT-818, LDG 817 tuner, SotaBeams Bandspringer Midi End fed Antenna, and Bioenno 9Ah battery. The only way I could have made this any lighter was to forgo the external battery and use the FT-818's internal bat, but that limits me to 5 watts instead of 6 and I get nervous about running out of power. The antenna was configured in the inverted L configuration up in a trees pointed westerly (I didn't realize the direction at the time). I started off chasing a few parks and got decent signal reports, when in the clear of course. I then called CQ for a bit on 40 meters as it is usually where I get the best action with this setup. I did get a couple of contacts on 40 but nothing out of the ordinary. When I went over to 20 meters I was delightfully surprised when I started getting some strong contacts from western states such as Arizona, Colorado, and Utah. When I got to 10 and the activation was a success, I decided to try 17 meters just to see what happened and got a Canadian from Vancouver who reported that he was using just 20 watts and that I was readable but fading up and down. I was able to let him know I was using 6 watts and that he had a pretty solid signal. This is by far my furthest contact on the FT-818 and I was really excited that the stuff I had read was true. QRP is an interesting paradigm and I fully appreciate those who say it makes you a better operator. I ended up with 13 contacts for this activation which is not bad considering I only spent 2 hours and didn't have room to rotate the antenna. I am the second person to activate this park and I completely understand why. It's not a "park pavilion" kind of activation and, if anything, is more reminiscent of Summits On The Air when the planning and hiking are taken into account.
Hiking out was even more enjoyable since we had experienced a beautiful waterfall, activated the park, and gotten a pretty good workout. The best part of hiking out is that it's literally all downhill. We did check out the main campsite just past the trail split along the Snow Falls trail. Maggie is onboard for a camping trip sometime this fall. This is the epitome of tent camping in the wilderness and we are really looking forward to it. As I write this, I am realizing we really only saw a fraction of what this place has to offer so, realistically, we will probably be making many more trips here to experience other seasons of the year.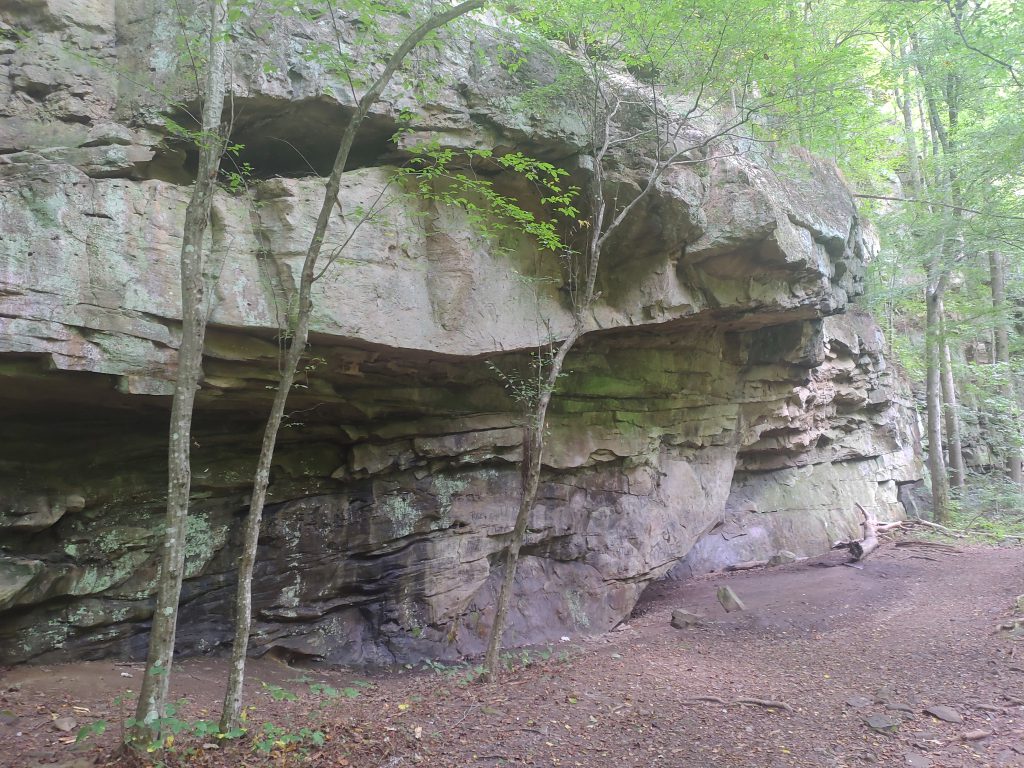 And as tradition would have it, we went to Dub's Place (in Red Bank, TN) following this adventure and got a burger, fries, and a large milkshake. 🙂