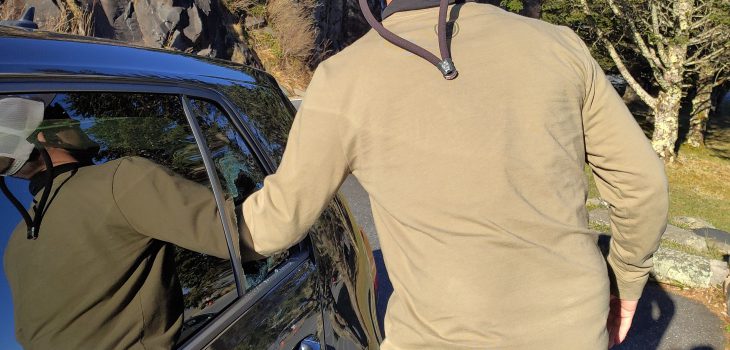 Anything that can go wrong, will—at the worst possible moment

Finagle's law
The following is a series of unfortunate events that made for a good story and a few lessons learned. Bad luck is something that can't be predicted, but you know when it has stumbled upon you. Sit back and enjoy the misfortunes of a couple of kids on an otherwise lovely day in the mountains. I promise it's okay to laugh, because we definitively do……….
For the past few years, Maggie and I have taken a journey to Sevierville, TN for Maggie's Birthday. She and I love to stay at the Buckhorn Inn for some relaxation and fine food. During these short weekend trips we usually take a drive through the Great Smokey Mountains National Park mainly to take in the scenery and also for me to bitch about Floridians who have no business driving on mountain roads. They must not understand the purpose of a pull-off for slower vehicles, but I digress.
The past couple of years we have just missed the weather window to make it up to Clingmans Dome. So how lucky we were that the weather held out for us to get our chance to go up to the highest point in the Great Smoky Mountains National Park, Tennessee, and third highest point east of the Mississippi River according to the National Parks Service.
On the second day of our trip we took off after our usual delicious breakfast at the Buckhorn. As we cruised through the mountains the sun was beaming and the air was crisp. We turned onto the road for Clingmans Dome and really soaked in the scenic vistas all around us. It wasn't long before we pulled into the parking lot, which to no surprise was already mostly full at 10am. I decided to carry a small day pack as I usually do for these adventures. It has plenty of room for water, snacks, and pocket items. I really despise wallets, phones, and keys rubbing against my legs for any extended walk. But on this day I would regret this decision.
So we started up the long paved path to the top where the dome is located. It's very steep and I was a bit surprised to see some elderly folks making this journey. Maggie and I decided we only hope to have the strength and willpower to try a walk like that in the sunset of life. As we wound up the spiraled walkway to the elevated dome, the true amazing panorama began to come to full view. It was an exceptionally clear day so I would venture to say it probably doesn't get much better than what we experienced.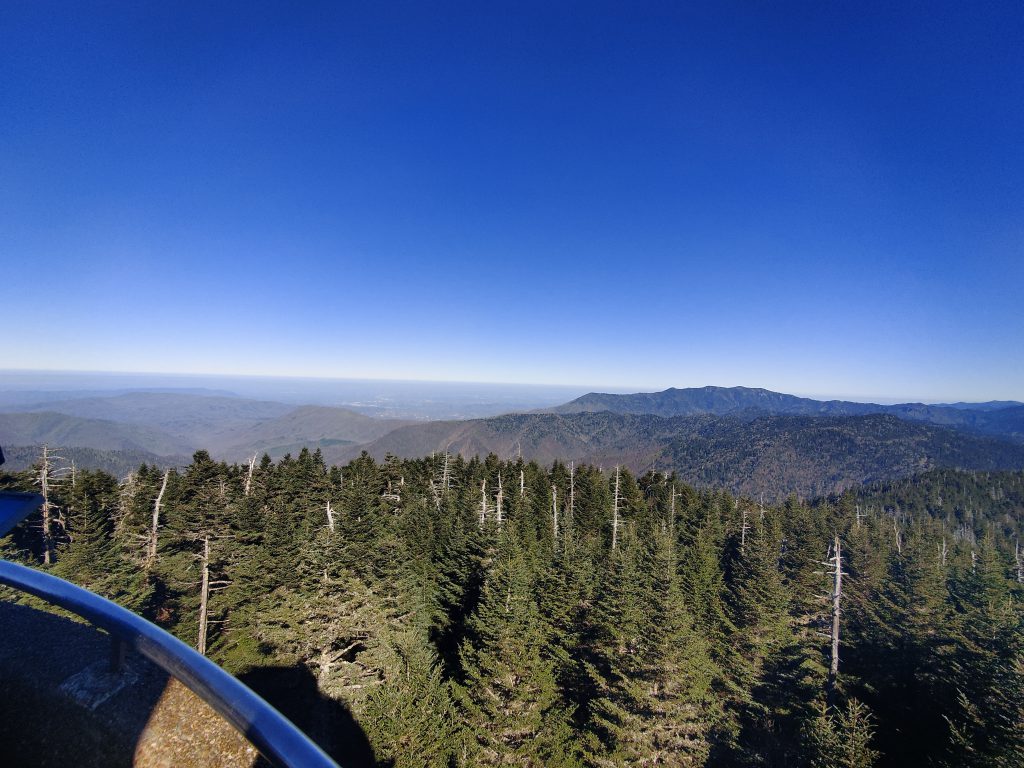 Following a few minutes of awkward jockeying for different prospectives among the folks whom apparently were not worried enough about COVID to journey to the confined overlook; However, they did seem to think that since they wore a mask that the place was theirs and everyone else deserved a dirty look. We made our way down which was much easier for some reason and stopped by the gift shop to pick up a magnet for Maggie's collection.
As it was getting on toward lunch time, we went to the car to retrieve our sack lunches that the Buckhorn had prepared for us. Luckily we parked right next to one of the few grassy areas that were not highly trafficked by other folks. So we threw our bags in the trunk and got our lunches out. As we enjoyed our lunches, we took in the clear views and watched the many cars come and go. When finished we got the pleasure of figuring out how a bear resistant garbage can opens and before you laugh, let me just tell you, the opposable thumbs are an amazing thing.
This is the point where the proverbial wheels fell the fuck off the great day we were having. At this point if you haven't read the law posted at the beginning of this post, go back up and take note now. When I went to open the back hatch of our VW GTI it responded with that cold loose feeling of nothingness that can only mean it's locked. It was one of those moments where my mind immediately races down those lonely roads of the possibilities of a quick and easy answer. I looked at Maggie with what must have been something between confused and annoyed. It dawned on me what had happened but I still stood there like an idiot checking my pockets for the keys knowing full well they were safely zipped up in my day pack that was thrown into the trunk before sitting down for lunch.
After some double checking that all of the doors were indeed locked, we decided to give the gift shop another visit to see if they could assist. We were fortunate enough to have our phones since we were using them to snap pictures. The only problem is, there is barely any cell phone service. I was able to get just enough if I stood in just the right spot to get a list of locksmiths, after a few calls that were touch and go I couldn't find any close enough to be interested in a scenic drive up to the Dome late on a Friday afternoon.
Things did start to look up slightly when a gift shop employee called a NPS Ranger named "Rick" who said he was about 45 minutes out. I will admit that I was skeptical of Ranger Rick's abilities to unlock a keyless entry car but nevertheless, having someone come to aid us with some kind of support was a nice thought. Sadly, after a very long hour of waiting around by our locked car, Maggie checked back with the gift shop to find out that Ranger Rick would not be coming to our rescue after all. This irritated me because we had basically been waiting for nothing and it became painfully clear what was going to have to happen next.
It was time to execute plan B that I had been dreading since discovering this whole debacle. Since I had slung the backpack into the driver's side of the trunk, logically I needed to gain entry that way. Thinking ahead to the two and half hour drive home down the interstate in a few days, I really didn't want to take out any of the bigger windows. So it was either take out a big window to hit the unlock button or gamble with going for the small fixed glass on the rear door to then let down the seat and get the keys out of my bag. Thus a smaller hole and not as noisy or cold. I decided to go with the latter option in hopes of a more comfortable ride home. So the dice were rolled.
We made a quick search for a rock that was big enough to break a widow but small enough just to break the fixed glass on the back door. I'll let the pictures below tell this portion of the story……….
There really isn't much left to tell other than the cost to replace the widow was a shade over $200 which seems steep but a locksmith wouldn't have been much cheaper even if it was a possibility. In the end I feel like this is some kind of design flaw of a "keyless entry" vehicle. I did some research after the fact and found this to be a common "issue" with multiple vehicles. Still, Maggie and I had previously operated under the assumption that it wasn't possible for almost three years and 60k miles with this vehicle before we got to the one place you wouldn't want to have this happen. These days I find myself somewhat paranoid about the keys everywhere we go.
One last thing, I am painfully aware that I can pay for the VW OnStar thing for a nominal fee every year or hide an extra key fob somewhere on the car so don't bother busting my balls about that. This story is written down for you to laugh at our misfortune rather than a high and mighty tooting of your own horn on how smart you are. Cheers!